Celeriac is the knobbly vegetable in the supermarket that no-one knows what to do with. It's actually a very versatile and nutritious vegetable with a mild celery/parsley flavour.
Closely related to celery, celeriac is grown for it's bulbous root rather than it's stems, it is a good source of fiber, B vitamins, vitamin C, Vitamin K, phosphorus and potassium.
So What Can I Do With It…
Being a root vegetable, celeriac can be used in the same way as any other root – roasted, steamed, mashed, pureed…. It can be used as a celery alternative in soups, stews and salads. Celeriac will discolour once you've cut it, so soak it in water with a little lemon juice to prevent it going brown around the edges.
How do I Prepare It…
The skin of celeriac is quite thick and tough, it's also a knobbly vegetable so can harbour dirt.  The best way prepare it is:
Wash under running water and give it a scrub with a vegetable brush to remove as much earth as possible.
Cut the top and bottom off the root – this gives you a flat base to work from.
Cut around and down the sides until all the skin and rooty bits are removed.
You can now use the celeriac in whatever form you wish – cubed, sliced, batons or grated.
If you want to do something with all the peelings, they give a fantastic flavoured stock.  Just cover with water, simmer for 20min, strain and use the liquid in soups, stews, etc.
Some recipe ideas…
Make a lovely creamy soup with your celeriac, this roasted one from Naturally Ella is delicious, roasting the vegetables gives a depth of flavour and mellowness to the soup.
Celeriac Remoulade is a classic French dish – a quick and easy alternative to coleslaw, try this recipe from Delicious.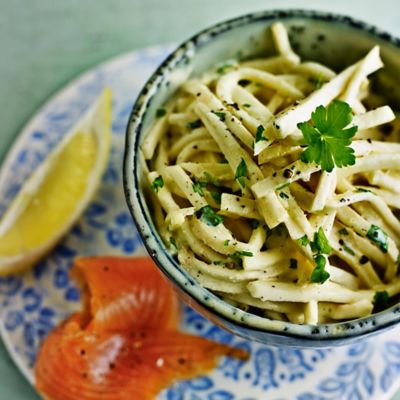 One of my favourite dishes is this Celeriac, Lentil & Hazelnut salad. It's makes a great vegetarian main course, suitable for vegans, can be eaten hot or cold or used as a side dish with meat.
Comment below and let me know what your favourite celeriac dish is!